450-651-4000
Danielle Dessureault
Real Estate Broker
Spoken Languages
French - English
Re-Max Imagine
Real Estate Agency
Montérégie
A food lover's paradise
Between Montréal and the U. S. border, peace and quiet can be found in a pretty valley. Welcome to the Montérégie! Puncutated by hills, crisscrossed by the gentle flowing Rivière Richelieu and outlined by the banks of the St. Lawrence River, this strongly agricultural region offers a vast assortment of delicacies. Apple growers, vegetable farmers, chocolate makers, farmers and grape producers welcome tourists to come and sample their specialties or to pick their own. Itineraries are available for gourmets, i.e. the Circuit des paysans (country living tour) and the Route des cidres (cider route). The Montérégie is the perfect place for relaxation and escape, with plenty of golf courses, five long intertwining cycling trails (500 km/800 mi.), hiking and cross-country ski trails, parks, theatres, antique shops and an impressive network of tourist inns.
Cultural gems
Tourists can discover fields, forests and rivers, forts, historic sites and period homes in this countryside. This region is really overflowing with history! For example, you can visit the Chambly Canal, open to shipping since 1843, and where most of the locks still function manually, and the Fort Chambly National Historic Site of Canada, built in 1709, and site of various armed conflicts in the 17th and 18th centuries. The Sanctuaire Notre-Dame-de-Lourdes, dating back to the 1870s, is a popular pilgrimage site. Finally, to fully experience the culture of the Montérégie (where many great artists like Paul-Émile Borduas, Jordi Bonet and Ozias Leduc lived), a visit to the Musée d'art de Mont-Saint-Hilaire is a must!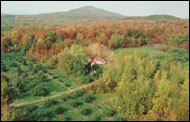 Little islands of greenery
Above all, the Montérégie is overflowing with green space. Parc national des Îles-de-Boucherville is made up of five islands in the middle of the St. Lawrence River near downtown Montréal, and is visited regularly by walkers, cyclists, canoeists and bird-watchers. Parc national du Mont-Saint-Bruno has five lakes, several orchards, an historical mill and endless hiking trails to discover. This mountain is also a ski centre-city folk especially appreciate its proximity. The Centre de la nature du Mont-Saint-Hilaire, designated by Unesco as a world biosphere reserve, is home to 185 species of birds as well as many mammals and amphibians.